Bistronomy is located in Petržalka, Bratislava, near new business centre Ein Park. It came onto the scene in midst of COVID-19 pandemic, which significantly impacted its start.
The founders of Bistronomy, Denis Benek and Tatiana Marčeková persisted despite the complications, and today guests can enjoy dishes served by Head Chef Martin Miklošík, who had completed an internship in Maaemo, the only Norwegian restaurant with three Michelin stars. Later Martin worked and developed with Michelin Head Chef Pavel Pospíšil in Petržalka's Liviano.
Martin Miklošík, as well as the whole Bistronomy team, is rigorous and determined about developing the concept they had decided for, namely quality of ingredients, quality of environment, as well as overall harmony of food and wine. I would like to emphasize that even if almost everyone in gastronomy talks about the quality, the Bistronomy -style quality is a unique phenomenon. Each dish in Bistronomy is, simply put, quite an experience. The same can be said about the tasting dinner, in which we were served special six course menu. Each cuisine was prepared from ingenious Tekov ingredients and masterfully paired with wines from Tekov.
Wines from under Volcano in Bistronomy
After 18 months of social fasting, to which I was forced by the COVID-19 pandemic, I wasn't sure what to expect. And actually, I know wines from Tekov. In fact we don't even drink any other wines. So why would I go taste wines to Bratislava? While I do love food and wine, this event isn't quite for me, I thought.
Luckily, I overcame my hesitation (and laziness) and set out for the dinner with my husband and friends. I don't know what other tasting dinners are like, but this one took place within an intimate number of guests on a friendly terrace with bunches of fragrant plants in flowerpots in a friendly, relaxed atmosphere.
As a welcome drink, we were poured a glass of Rappel, Tekov cider from Marvla Tindo production. If the word "cider" makes you cringe, forget the all too sweet crazy stuff, which gives you have heartburn for three days. This cider wasn't grown on supermarket shelves. The apples were harvested in Tekov orchards, they were dutifully pressed, and the must was fermented in a wine cellar. Rappel Cider from Marvla Tindo is surprisingly slightly sour and refreshing, while its aroma faithfully imitates the sweetish aroma of freshly picked apples. The night full of surprises was good to go.
The Wine is dead! Long live the Wine!
Ján Záborský representing the Vulkanists in a short opening speech, mentioned that some of the wines we were about to drink with dishes that day, weren't and won't ever be available for purchase. They are unique bottles picked from Vulkanists' archives. At that point, I didn't realize, how sorry I would be about it. Becuase, trust me on this one, each wine brings a new experience. But such is life, too. Temporary, like the wine, so we should enjoy every sip of it.
Before the first course, we were offered two Pesecká leánka (Feteasca Regala) wines of the traditional Tekov variety. Pesecká leánka 2016 from Brhlovce Winery belongs among vintage wines. People who remember 2016 know that it was one of the coldest years with winter temperatures reaching -30°C in winter. The weather affected not only the harvest, but also the nature of the wine. After five years, Pesecká leánka 2016 from Brhlovce Winery was still very fresh and smooth.
As we were told by the winemakers who were accompanying us the whole night with word and wine, Pesecká leánka is not just a little princess from Tekov, but it has many shapes. One of them is the gutsy Pesecká leánka 2019 Rustical from Čajkov Winery .
Wines, like people, can't be objectively compared. Each of us is different and each wine is different even though it is of the same variety. This diversity of life, when transformed into a glass of wine, is fascinating.
Sour? Sweet? Spicy? Harmonious!
Our first dish was a trout with 11-year-old vinegar from Čajkov, made by Marek Uhnák. While the waiters were serving the meal, we learned the history of the origins of this vinegar and we were eager to find out how the trout with the 11-year-old vinegar would taste. If you had guessed that the vinegar would be prominent, strong, breath-taking, you would be as wrong as I was. It was really delicious and smelled pleasantly. After all, it thrived for eleven years in a tuff cellar.
When looking at the word "trout" in the menu, some people were afraid they would get a plate with a fish lying all over it. The elegant arrangement vibrating with a positive mood quickly dispersed the fears. The meat was gracefully deboned, soft, even butter-like but not shattered. The Čajkov vinegar, as well as crispy fermented vegetables made a great contrast to it.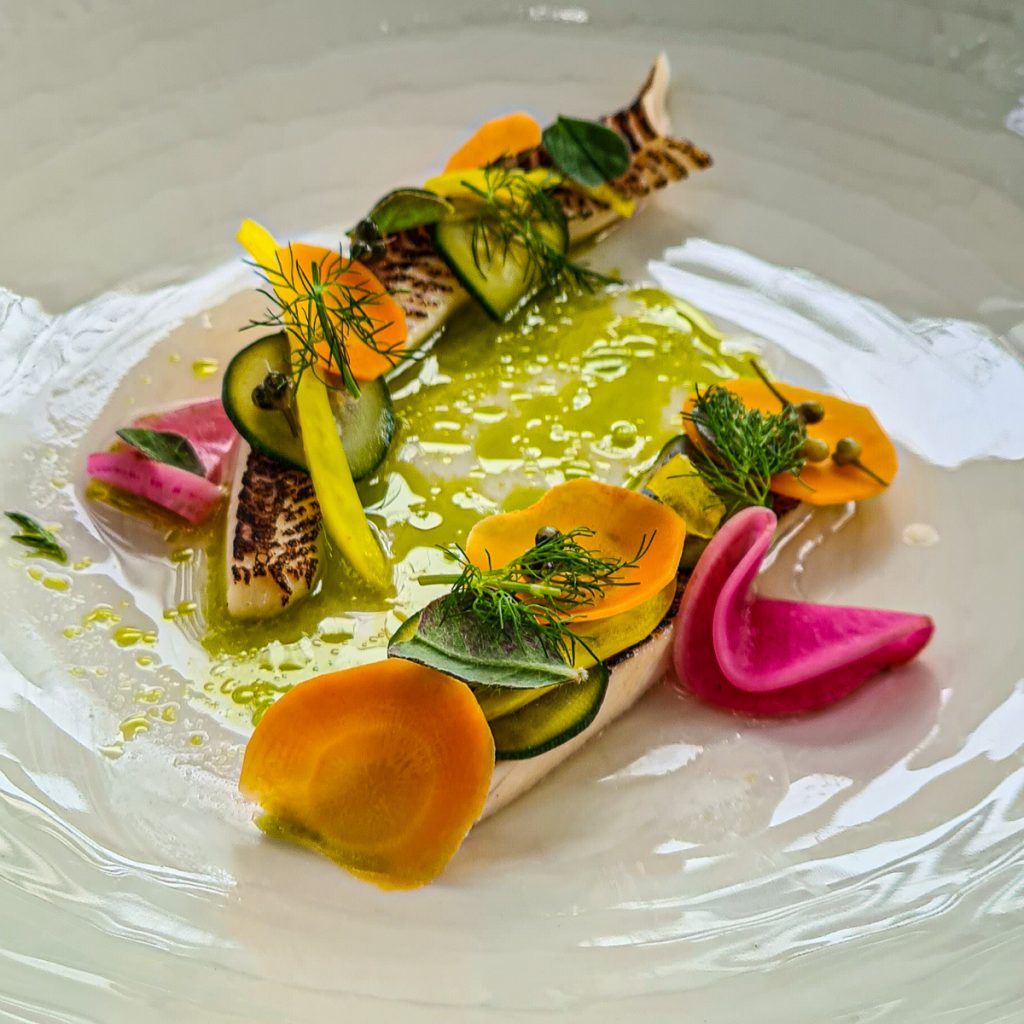 The wine paired for the trout came from Marvla Tindo Winery. Irony 2013. It was a cuvée of sugar-rich Gewürztraminer and Green Veltliner with higher acids, mixed in the 1:1 ratio. The grapevine grew on the southern slopes of the Štiavnické vrchy Mountains. The Gewürztraminer was made into wine on soft lees in oak barrels and Veltliner in stainless-steel tanks. It is dominated by honey notes with acacia blossoms in the background. The wine leaves a long aftertaste in the mouth. Or left? This is one of the wines which, to our great sorrow, can't be purchased anymore. I'm making a mental note to self – stop drinking wine and start archiving it! I think it's a great pity that I won't taste this brilliant wine anymore.
Gourmet Ecstasy
In a warm summer sunset I appreciated another delicacy, namely cooled almond soup with green grapes from Marvla Tindo vineyard, hand-picked for us by Vlado Kuny. Funny as it is, just before the serving, we were discussing our personal preferences at our table and divided ourselves into two camps – those who like white food, that is anything with cream, and those who don't.
The cooled almond soup was white, but despite its creaminess I have no idea whether it had cream in it, but I guess not. All of us ate it with gusto and if we hadn't been ashamed, we would have licked out those beautiful little bowls resembling porcelain shells. The sweetish taste of almonds, which I personally consider a bit flat, was highlighted by a nice sourish taste of young grapes and finished-off with a drop of oil. The word "harmonious" comes to mind again, but harmonious ecstasy is probably an oxymoron.
Pairing with the legendary Vulcanica #3 from Čajkov Winery was also a great success. Vulcanica #3 is semi-sparkling cuvée of Pesecká leánka 2017 and Pinot Gris 2016, with added must from the year 2018. Pinot Gris gave Pesecká Leánka in this Vulcanica something like earthy, mineral finish, a hint of pleasant bitterness, which intertwined perfectly with the almond taste of the soup.
For Demanding Gourmands
The discussions went on, so did the time, and our stomachs provoked by the wonderful tastes of hors d'oeuvres demanded something denser. The head chef had anticipated it and as the next course, he offered a perfect home-made pasta with eggs and home-made gouda from Ján Záborský from Brhlovce. Since I love pasta, I can appreciate if it's prepared truly properly. No, pasta from shops doesn't have proper structure and firmness even if it is cooked "al dente".
The gouda cheese was melted into a cream and had a strong taste and aroma because it was made from milk from cows grazing freely on Tekov pastures. Such milk has completely different qualities (pertaining not only to taste). After all, even the world's most famous cheeses such as cheddar or eidam differ from their imitations exactly by their place of origin and specific meadows where the cows graze. The eggs softened the overall impression of the food and gave it a nice homely look.
Pinot Blanc 2019 Impression from Brhlovce Winery was an excellent choice for this pasta. Its aroma is dominated by notes of a buttery pear and hazelnuts complemented by soft white spice in the background. The aftertaste is long and spicy with nice bread taste. This wine opens slowly and it is in an ideal condition right now.
A Bit More To Snack
Even though the servings were elegant, thanks to the richness of the tastes and aromas I felt quite satiated after the pasta. Nonetheless, I was excited about the fried battered courgette flowers filled with Slovak ricotta with a drop of tomato sauce to fine-tune the experience.
I have experienced fried courgette (or pumpkin) flowers mostly within Indian cuisine, where chickpeas flour is used for the batter. I have never tried to prepare this dish myself, because I am put off by the difficult work with the delicate flower petals. I could but admire the care and skill of the chefs from Bistronomy, who were able to fill the flowers with ricotta and preserve their shapes. They were crispy, hot and fragrant like a summer day. Timing of the serving for the early evening when the sun sets and stops to beat down so harshly, was perfect.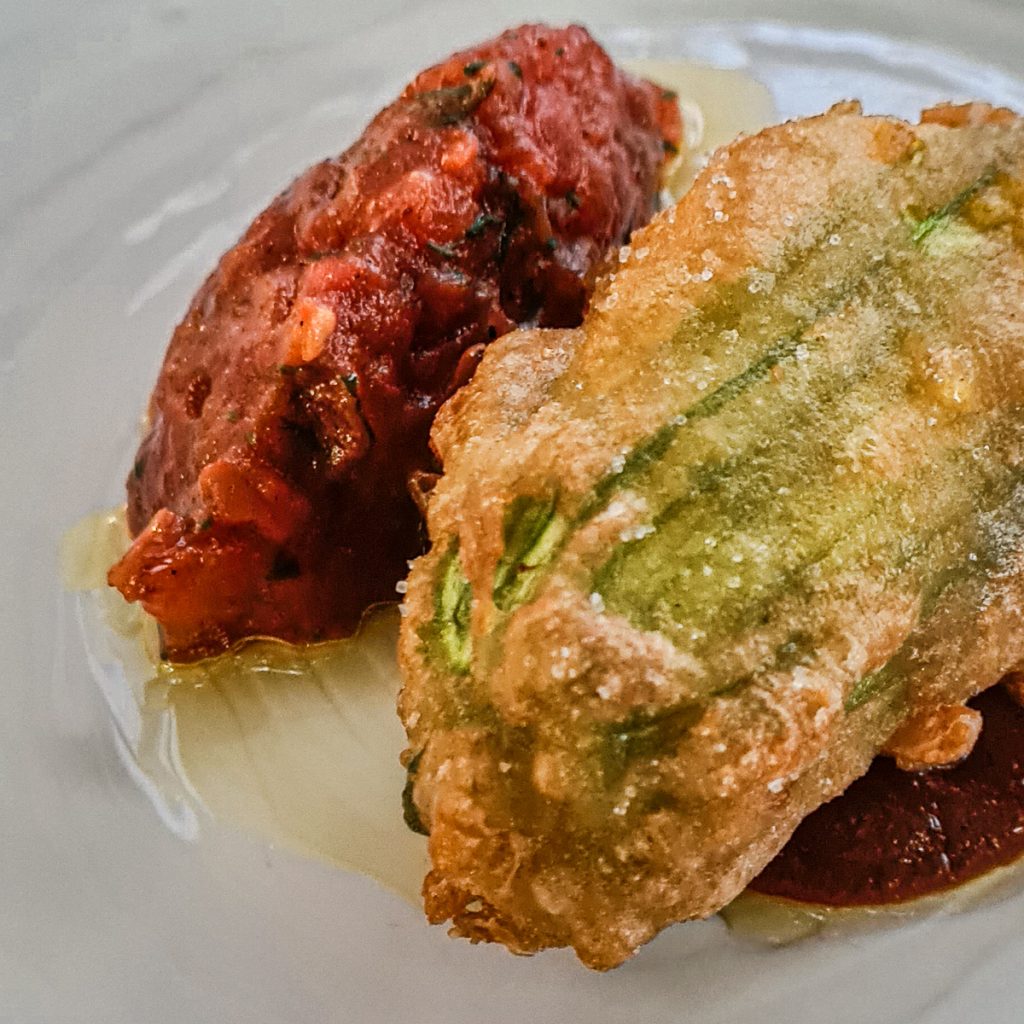 As a proper laywoman, my experience is that vegetables and cheeses are served rather with white wine, so I let myself be led by those who know their way around and gladly accepted the glass of Blaufränkisch 2013 from the Marvla Tindo Winery with the fried courgette flowers. That year was hot, great and the wines turned out really well and pairing even more. The wine had intense aroma, which soothed the agitated tastebuds on our tongues and its taste harmonized the spicy tastes of the fried batter and the fresh tomato sauce.
Do You Know "Karabáčik"?
I didn't know either. Karabáčik was slowly roasted beef, gently pulled, wrapped in vine leaves. Like with the grapes, these leaves were picked manually for us by Vlado Kuny in his vineyards. The dish reminded me of Balkan sarma, which is exactly the type of food I love. Karabáčik was lying on a fantastic, strong demi-glace sauce and its earthy home-like warm taste was nicely supplemented by au gratin potatoes, aromatic fermented beetroot, and very soft pea mash.
Karabáčik was perfectly accompanied by Kora Bella 2017, so far the only cuvée from Brhlovce Winery. It connects Blaufränkisch, Pinot Noir and Alibernet. It is wine with a strong smell and aroma, and it was exactly because of this strength and earthiness that it matched this dish so well. Harmony played the leading role again. I would say that the wine and the dish were literally going hand in hand and supported one another so that the best from each would stand out. It would be nice if we applied this in our lives, human relationships and so on.
Sweet Coda
Yes, a heck of a cliché. But at the time of the dessert, we were only making dreamy ooh's and accepting all those wonderful smells and tastes, clinking of the glasses and cutlery, chirping of the voices around us. As a dessert, a delicate sponge cake with hazelnuts, covered with soft foam, mulberry jam cooked in Devín and poured over with pekmez by Marek Uhnák was served. Mulberry is a fruit characteristic of Tekov and pekmez is an insanely good syrup created by patient evaporating of grape must. Yes, very patient. The process takes two days during which the must must not boil.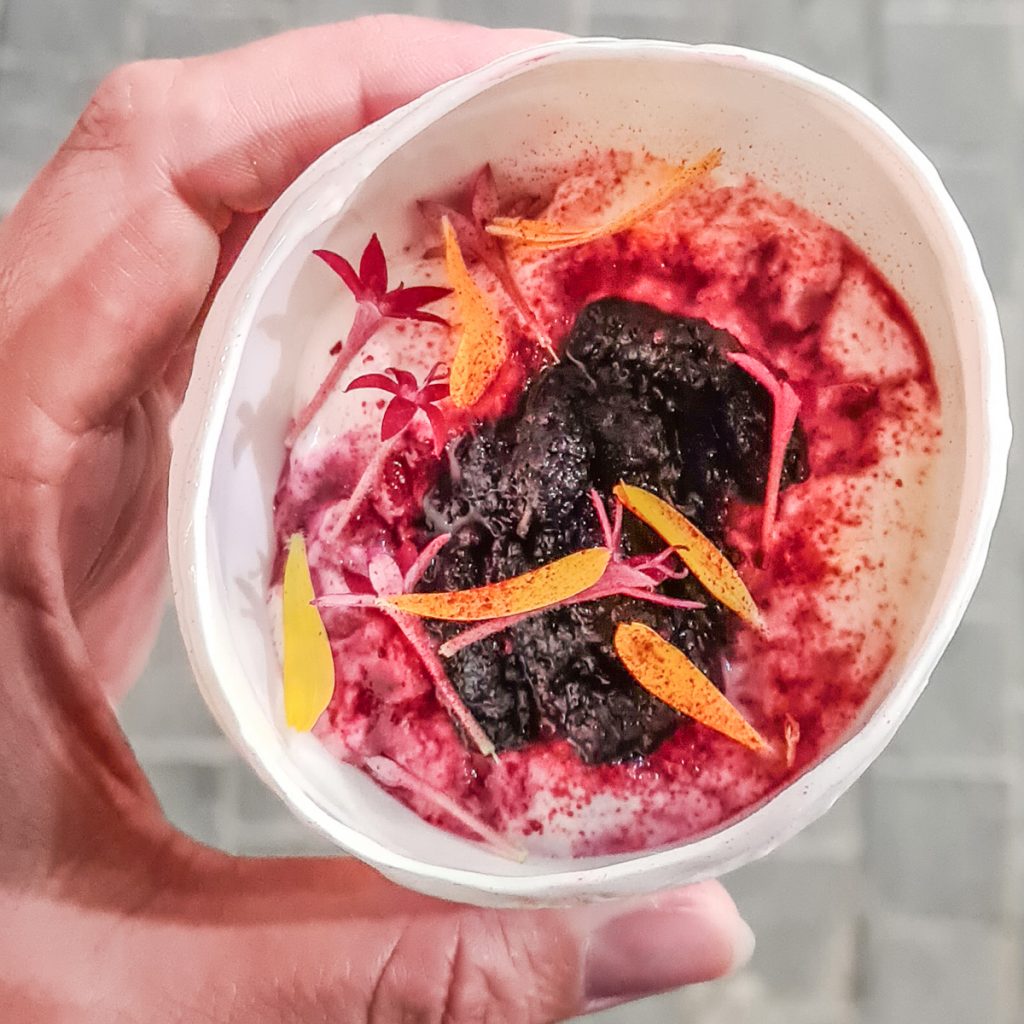 The dessert, too, was served with wine. You wouldn't believe what great pairing it made with Intacta Devín 2019 from Čajkov Winery. It can't even be quite described because the moment was short and fleeting. And very, very good. Like life itself.
Food, Wine And Life
During the tasting dinner, we satisfied all our senses and soul to the fullest. My fears, whether I would understand and be able to sufficiently appreciate what I was drinking and eating, were dispersed. The tasting dinner is neither an exam in gastronomy nor a competition in recognizing the slightest nuances of tastes. It wasn't a promotion aimed at selling us as much wine as possible. Right the opposite. It was a party of beauty, harmony, and their fleetingness, which makes them into an even more valuable experience. It is going to stay in our memories for long.